10th Anniversary Project: Photography Exhibition
I will celebrate the 10th anniversary of the establishment of Andina Travel Co., Ltd. in 2021 with the patronage of many customers.
As a commemorative project for the 10th anniversary, I will hold the Photography Exhibition "The Dynamic Earth: SOUTH AMERICA".
Photography Exhibition "The Dynamic Earth: SOUTH AMERICA by Akira Matsui"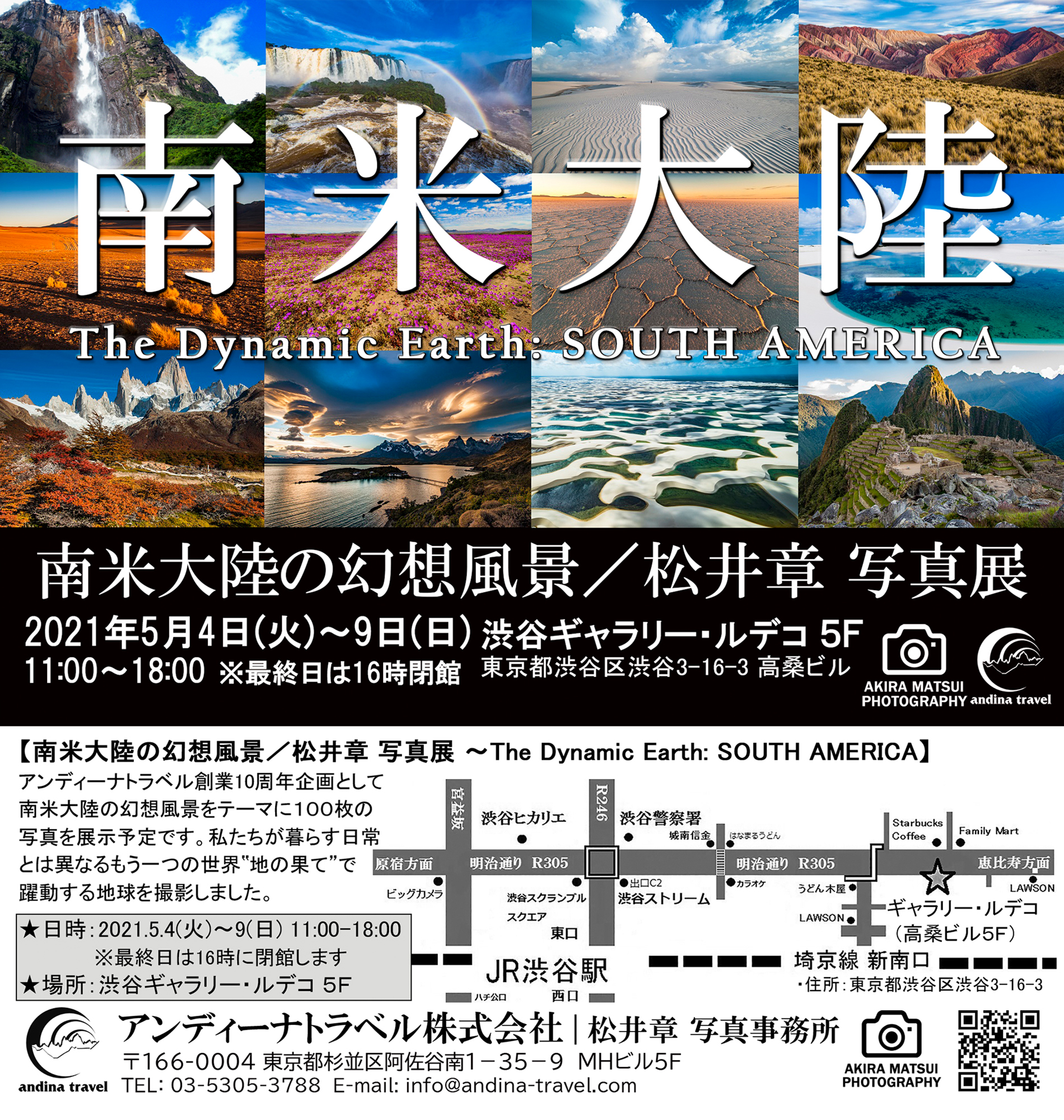 ・ Date: May 4th (Tuesday) -9th (Sunday), 2021
・ Location: Shibuya Gallery Le Deco 5F (3-16-3 Shibuya, Shibuya-ku, Tokyo)
* Gallery URL: https://ledeco.net/
The fantastic scenery that spreads out at the "end of the earth" on the South American continent is "another world" that is different from the everyday world in which we live.
The more I see the expression of nature, the more I feel that the earth itself is a big life form.
I photographed a moment of the earth pulsating while being moved emotionally enough to shake my heart. I think that a glimpse of the various facial expressions of South America will make us feel "us" as a part of the earth and foster curiosity and new perspectives on life and the earth.
In search of all the nature of the South American continent that originated in the Andes, I traveled for all the continent, from the 5000m highlands of Los Andes in Peru and Bolivia, to the ruins of Machu Picchu, the crystal desert "Lencois" in Brazil and to Patagonia, etc.
Akira Matsui Photo Office: Dedicated Page
Photo gallery
COVID-19: Safety Guidance
*Please be sure to wear a mask in the gallery.
*In the past two weeks, if you have had a fever, had health issues or stayed in a country or region where the spread of COVID-19 was observed, please refrain from entering this gallery. We hope you will visit us later.
*Please disinfect your hands before entering this gallery.
*Please keep a distance of 1.5 m from other visitors in the gallery.
*Please note that admission may be restricted to ease congestion.
** Closed days, open hours and measures against COVID-19 may change depending on the situation. Before visiting this gallery, please be sure to check the gallery website or Twitter.
Japanese edition: 日本語版